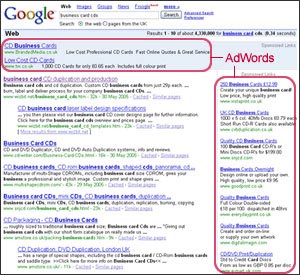 "By 2010, online marketers will spend $7 billion dollars on PPC advertising"
(Quote: Jupiter Research, www.jupitermedia.com)
With Google Adwords advertising, your website will be guaranteed front page exposure for the chosen keywords immediately (or maybe delay in just minutes). It can gain new leads and boost your Return on Investments (ROI) while lowering your advertising costs.
Pay-Per-Click Campaign (Google Adwords) is now the most dominant form of online marketing & advertising. There has never been an easier and faster way to deliver your marketing message to people searching for your products or services.
Our services include: -
Campaign set-up & keyword research
Setting up a successful Pay Per Click (PPC) Campaign is a time consuming process which involves the following: -
Embarking on keyword research and selection. A typical SEM-PPC campaign may involve hundreds to thousands of targeted keywords.
There are various search engines and sites offering PPC services. Which are the ones that best meet your objectives and what are the differences between them?
Your bidding prices for different keywords will affect their positions on the ads display. What is the best pricing to offer?
Is your ad copy compelling and unique? An effective ad copy will result in higher conversion rate.
Often or not, landing pages determine the conversion rates and ROI of a PPC campaign. We suggest / consult effective landing pages to measure results and increase ROI.
Keywords bidding management
Pay Per Click listings work around a model where prices for individual keywords vary from time to time. Constant monitoring and adjusting is necessary to ensure your bids will always achieve efficient and cost effective results.
Our PPC Professionals can: -
Increase click through rates through increased keywords relevancy.
Target ad copy towards geographical locations.
Create compelling and unique ad copy to improve conversions.
Create effective landing pages to ensure higher ROI.
Adjust ppc campaign to deliver cost effective and efficient results.
Lower costs by eliminating non-converting or non-performing clicks.
Campaign tracking & reporting
Success of a PPC Campaign is measured through constant tracking, analysis and reporting. Our analysis, tracking and reporting are done on a regular basis to determine: -
Click Through Rates
Bounce Rates and Conversion Rates
Percentage of converting clicks
Costs of Clicks Vs Effectiveness of Clicks
Performance of various geographical locations
Importance of impressions VS Marketing Objectives
Sounds good? Feel free to contact our friendly Consultant for more information.